About nine in 10 active-duty service members oppose the Defense Department's proposals to reduce their pay raises and basic allowances for housing, according to a new survey by Military.com.
Responses from more than 8,400 service members, their spouses, veterans and retirees show overwhelming opposition to the Pentagon's recommendations to curb personnel costs by reducing military benefits to include pay, housing, commissary stores and health care. Troops also resoundingly rejected suggestions from the top brass that pay raises aren't "on their minds."
Of the more than 2,000 active-duty respondents, 90 percent said they disagreed with reducing next year's pay raise to 1 percent from a previous 1.7 percent. An even higher percentage -- 94 percent -- said they disagreed with slowing the growth of basic allowances for housing until recipients pay about 5 percent of the cost.
"It will hit my wallet harder, especially in high-cost areas," said Army Capt. Robert Garcia, an infantry officer with the 2nd Brigade Combat Team, 1st Armored Division, at Fort Bliss, Texas, who lives with his wife and child in El Paso. "Anyone and everyone who is trying to provide a better home for their family is going to feel that right away."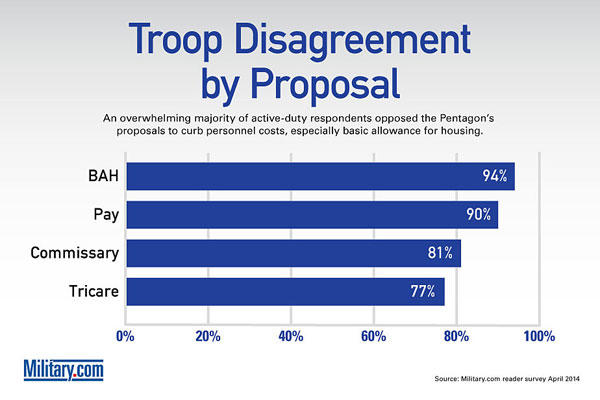 The voluntary survey was conducted online from April 28 to May 1. The feedback comes as lawmakers prepare to debate the Defense Department's budget request for fiscal 2015, which begins Oct. 1.
The Senate Armed Services Committee, chaired by Sen. Carl Levin, D-Mich., convenes Tuesday to discuss military compensation proposals. The House's Armed Services Committee, headed by Rep. Howard "Buck" McKeon, R-Calif., meets Wednesday to amend its version of the annual defense bill.
In previous congressional hearings on pay and benefits, lawmakers have asked military leaders to show them survey data on the subject from service members. Defense Department officials have not produced any at the hearing and instead only offered anecdotal stories saying troops support the cuts and would prefer the funding go to new equipment and training.
The House Armed Services' Military Personnel Subcommittee, headed by Rep. Joe Wilson, R-S.C., released legislative language last week that would reject the proposed benefits changes, with the exception of the lower pay raise.
"Congressman Wilson believes that we must honor the commitments we have made to our military families and veterans," Caroline Delleney, a spokeswoman for the congressman, said in an e-mail.
In the survey, 81 percent of active-duty troops said they disagreed with reducing subsidies for commissaries. The move would increase prices by as much as 20 percent and likely cause some stateside stores to close. The proposal was most opposed by junior enlisted personnel, nine in 10 of whom disagreed with the idea.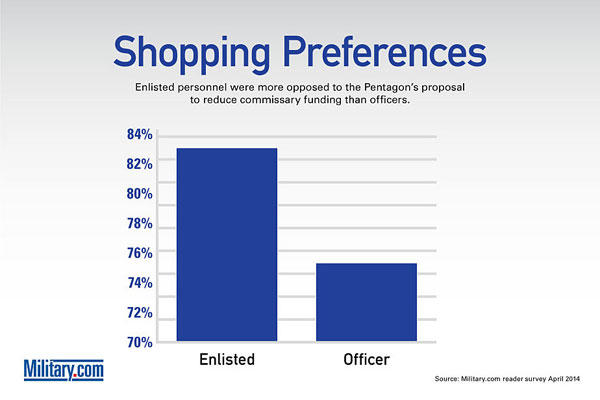 Airman First Class Grant Hoadley, a military police officer at Cannon Air Force Base, N.M., said he strongly disagreed with the change because he relies on the base commissary to buy discounted groceries such as meat, condiments and bread. The married 20-year-old figures he saves about $5 per item on bulk purchases by shopping there rather than at the Wal-Mart several miles away in Clovis.
"It saves a lot of money, especially for folks who don't have a lot of spend," he said. "If costs go up at the commissary, there's no point in having it."
More than three in four active-duty troops -- 77 percent -- said they disagreed with plans to consolidate Tricare into a single health care plan that's designed to have higher fees and more flexibility for military families to seek treatment from civilian doctors. Larger percentages of retirees and family members -- 90 percent and 82 percent, respectively -- disagreed with the idea.
Katheryn Salcido, a 35-year-old mother of three and the wife of a Marine Corps staff sergeant at Cherry Point, N.C., said she opposes the Tricare changes because the family is in debt and relies on their existing plan to cover significant medical expenses. Her 6-year-old daughter is in remission from kidney cancer and her husband, who served a tour in Iraq, has received treatment for post-traumatic stress disorder, she said.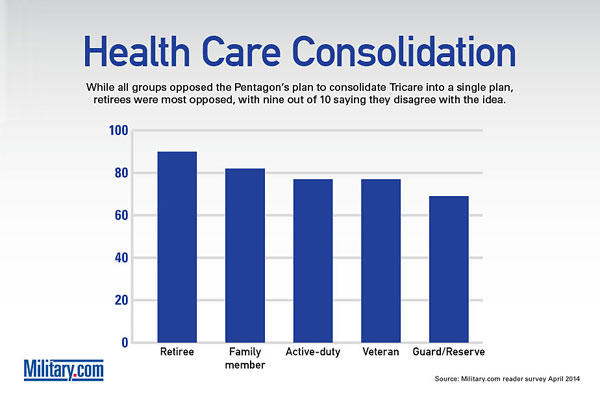 Salcido said her husband was recently reassigned to Fort Belvoir, Va., and that she's worried the upcoming move to the Washington, D.C., region, with its higher cost of living, will further strain the family's finances.
"I honestly don't know how we are going to survive," she said. "I'm already checking into the food banks."
It's perhaps no surprise, then, why respondents so vehemently disagreed with suggestions from military leaders that troops understand the need reduce benefits in order to pay for equipment and training.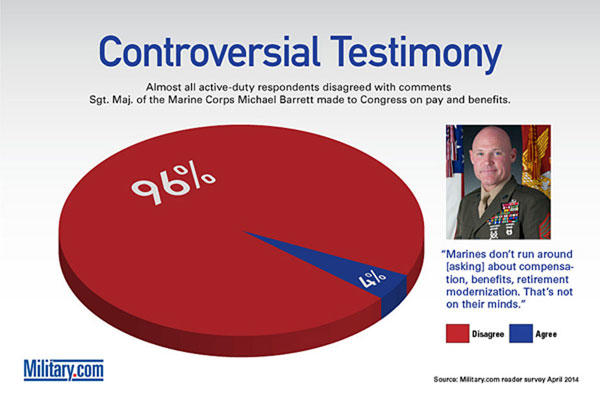 In congressional testimony last month, Sgt. Maj. of the Marine Corps Mike Barrett said "Marines don't run around [asking] about compensation, benefits, retirement modernization. That's not on their minds." While Barrett has since sought to distance himself from the remarks, they left a bad impression with many of those in uniform.
Almost all of the active-duty respondents -- 96 percent -- said they disagreed with such comments. Navy Petty Officer First Class Chris Martin, a 29-year-old married father of two at a naval base in California, whose wife is a 10-year military veteran, was one of them.
"I can assure him that everybody in uniform that has any thought in their mind about staying for the long haul is concerned and it does worry us and it does add more stress to our plate," he said. "When people in the Pentagon start making decisions for us without consulting us or even think that we're not aware of the problem, it's slightly offensive."
Martin said he actually agreed with some of the Pentagon's proposals to curb personnel costs.
"I don't disagree that there are possibly some changes that need to be made in pay and benefits," he said. "I understand that we, as a country, can't sustain that cost."
But, he added, "I don't think the first item brought to the table every time should be a 1 percent pay cut or cost-of-living adjustment. That's a drop in the bucket. I think we should be first looking at overspending in programs or a military travel system that costs three times as much as Expedia," he said, referring to the commercial travel-booking website.
The survey reinforces the types of concerns that veterans groups such as the Military Officers Association of America are hearing, according to Mike Barron, deputy director of government relations for the association and a retired Army colonel. His colleague, retired Gen. John Tilelli, chairman of the group's board of directors, is among the speakers scheduled to testify at the Senate hearing.
The association estimates the Pentagon's pay and benefits proposals would translate into an annual loss of almost $5,000 in purchasing power for the average E-5 with 10 years of experience and a family of four. That breaks down to a loss of about $2,970 in commissary benefits, $1,224 in basic allowance for housing, $593 in basic pay and $206 in Tricare.
"The currently serving force is definitely aware of what's going on," Barron said. "They're seeing that these things are really going to take money out of their pocket."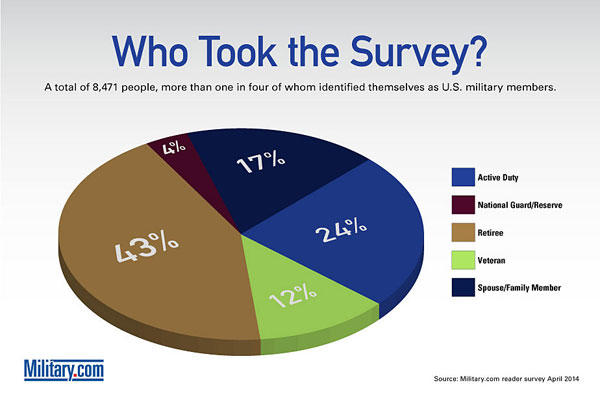 -- Brendan McGarry can be reached at Brendan.McGarry@monster.com.