If you're an Ellen DeGeneres Show fan like us, you should plan to tune in on April 9.
That's because male military spouse and the newest Armed Forces Insurance Navy Spouse of the Year, Brian Alvarado, and his husband Matthew are being featured as guests, and we just know it's going to be amazing.
Brian was first contacted about the potential appearance about a month ago, shortly after he found out that he'd been selected as the 2018 Navy Spouse of the Year.
"That was a surreal moment in my life," he said.
Over the next several weeks Brian and Matthew had conversations with a series of Ellen producers to make sure the couple was a good fit for the show. And this week they traveled from San Diego to Ellen's Burbank studio for the filming.
Like any good sons, Brian and Matthew took their moms to be guests in the audience. And when it came time for them to go out for their segment, he thought he would be fine.
"I'm like 'I've totally got this' -- and the music started to play and the stage manager said go ... and then there was Ellen and she was so beautiful and she smiled so big and I just lost everything I planned to say," he said. "Overall it was one of the absolutely coolest experiences."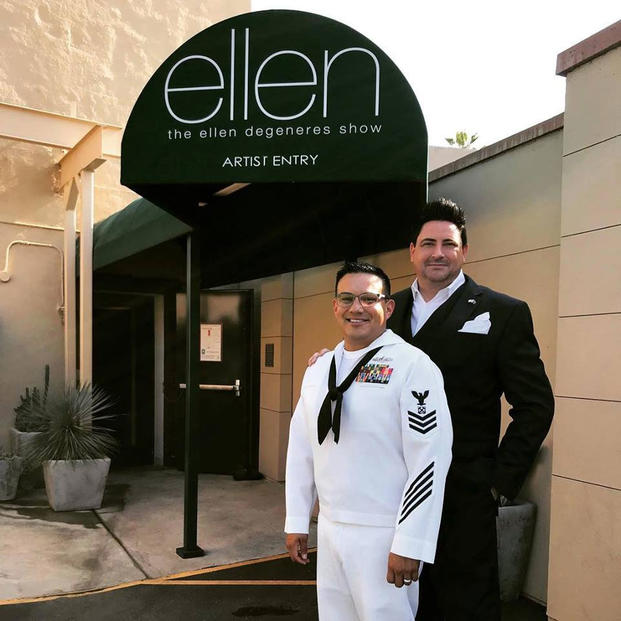 Brian said the highlight of appearing on the show was being able to share on a national stage some of the positive aspects of the military family experience.
"We hear all too often in the military community a sad story and we don't often hear the great stories, and the success and the uplifting and positive experiences that happen in the military family," he said. "And it was awesome to be able to share a positive experience with Ellen."
He said appearing on the show was also surreal as a gay male spouse. A handful of years ago, he said, they weren't even permitted to be married in the military. But this week he not only was able to be a military family member openly with his husband, he was able to talk about it on a truly national stage.
He said experiencing those rights and the military community has given him a sense of responsibility to give back -- and he takes it seriously.
"I believe with all of my heart with those rights come the responsibility to engage, to give back and to participate in the military community as a whole," he said.
Check your local TV schedule and make sure to catch Brian and Matthew on Ellen April 9!