When Hurricane Florence came sweeping over the U.S. East Coast early this month, some base commanders ordered evacuations, while Defense Department facility managers prepared for the worst.
With the storm over, floodwaters starting to recede and bases assessing the damage, Defense Commissary Agency (DeCA) officials have reopened the four stores that closed, they said.
Marine Corps Air Station Cherry Point, Marine Corps Air Station New River, Marine Corps Base Camp Lejeune, and Fort Bragg, North Carolina, reopened between Sept. 19 and Sept. 20, officials said, adding that all four stores sustained damage.
At Lejeune, the roof and sales floor both experienced heavy water damage, and the HVAC and refrigeration system needed to be restored.
At New River, a lot of inventory was lost thanks to roof water damage, and the HVAC and refrigeration systems were damaged so badly that a temporary refrigerated trailer for perishable products and plug-in coolers for milk are now in use.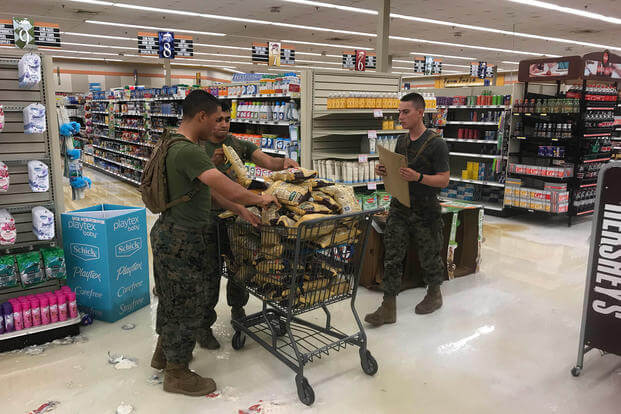 At Cherry Point, water damage had to be addressed and the HVAC and refrigeration systems had to be restored before the store could reopen.
And at Fort Bragg, the HVAC, refrigeration and network systems all took major hits.
But the stores' problems weren't limited to roofs or structure, officials said. The commissary is only as useful as the items it is able to sell and, thanks to the hurricane and associated flooding, restocking and even getting staff to stores were also serious problems.
Shoppers can expect those stores to be in recovery mode for a while as they continue to make repairs and try to restock items, commissary officials said in a release.
-- Amy Bushatz can be reached at amy.bushatz@military.com.